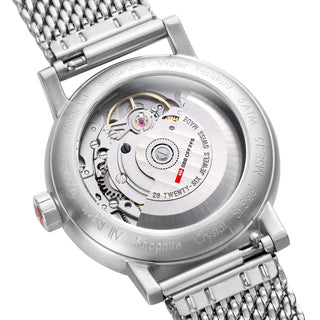 ART AND SCIENCE
Mondaine's Automatic Watch Movements
Powered by the natural motion of your wrist, these watches are both reliable and fascinating, combining the best of Swiss engineering with timeless design. Each timepiece is built to last, with the highest-quality materials and the most advanced manufacturing techniques.
These are statement-making timepieces that will never go out of style.
SWISS MADE
Our watches are crafted amidst the breathtaking Swiss landscapes, where time-honored traditions intertwine with cutting-edge technology. Our timepieces stand as testament to a legacy of excellence.
Embark on a journey with Mondaine, and experience true Swiss heritage.
Bauhaus Inspired Design
Our watches are designed to be both elegant and functional, with clean lines and classic shapes that will never go out of style. Whether you are dressing up for a formal occasion or just need a watch for everyday wear, our watches will always look great on your wrist.
Eco-Friendly Materials
We use only the highest-quality materials and components in our watches, from the sapphire crystal glass to the precision-engineered movement inside. This ensures that our watches are not only beautiful but also durable and reliable, providing you with years of enjoyment.
You can also choose from options with stainless steel or Milanese mesh bracelets, or vegan leather straps. Find out more about our materials here ›
HOW TO WIND AN AUTOMATIC WATCH
Follow these steps to get started:
Wear your watch carefully.
Gently move your wrists until you see the watch's hands moving again.
Make the necessary date and time adjustments, if needed.
If you were to stop wearing your Mondaine watch within 48 hours, the timepiece's movement will not instantly stop. It will utilize the movement energy until it is completely used up.
You can also turn its crown to wind it before setting up the time and date. Turning the crown is another winding mechanism you can use.