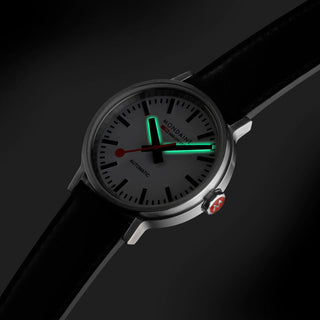 Craftsmanship meets Innovation
MONDAINE'S BACKLIGHT TECHNOLOGY
Mondaine's Backlight Technology is a revolutionary way to keep time in any lighting condition. The Backlight technology is represented by a foil filled with high Super-LumiNova® material which is glued to the backside of the hour and minute hands. The Super-LumiNova® is passively charged through the dial.
We are proud to offer watches that are not only aesthetically pleasing but also technologically advanced. Our dedication to innovation and sustainability is evident in every watch we produce, and Mondaine's Backlight Technology is no exception.
Discover the brilliance of Mondaine Backlight Technology and never lose track of time, no matter the lighting condition.
*The BackLight technology was patented by Mondaine Watch Ltd.
History
The Swiss Federal Railways have been synonymous with precision and punctuality for over a century. The unique design of the official clock features a red second hand inspired by the red paddle used by train station managers to signal the departure of trains.
Mondaine pays homage to this iconic design of watches and clocks. With the Backlight Technology, the timeless elegance of the design can be appreciated even at night, without any disruption to the visual aesthetic.
It's the perfect combination of form and function - a true reflection of Swiss craftsmanship and attention to detail.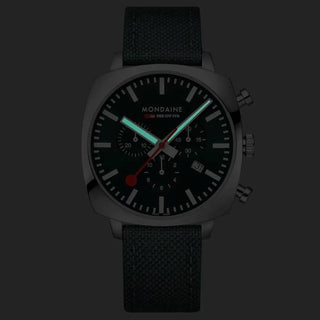 Super-LumiNova®
Mondaine's Backlight technology is powered by Super-LumiNova®. It allows time to be visible no matter the light condition. Super-LumiNova® or "afterglow" pigments are a non-radioactive and non-toxic alternative for illuminating markings on timepieces.
Foils filled with high Super-LumiNova® material are glued to the backside or in the front of the hour and minute hands. This advanced and safe fluorescent material operates like a light battery. After sufficient activation by sunlight or artificial light, they glow in the dark for many hours.
Super-LumiNova® allows the hands and indexes to glow and provide unparalleled night-time readability.
Backlight Technology Timepieces