EARN POINTS and GET REWARDS
Mondaine Loyalty Program
Earn points and use them as store credit. Don't worry, you don't need to purchase a watch in order to get points, there are so many great ways to earn without spending a single dollar!
At checkout, you will be able to select the amount of points you want to apply to your order.
How do I earn points?
Place an order
Earn 2 points for every $1 spent.
Sign up for our emails
Earn 200 Mondaine Loyalty points just for subscribing to our email list.
Have a birthday
We'll give you 200 Mondaine Loyalty points for your birthday. Just because!
Refer a friend
Earn $50 for each friend you refer as soon as they make their first purchase.
Get social with us
Earn 100 Mondaine Loyalty points just for following us on Instagram.
Give us a like
Earn 50 Mondaine Loyalty points just for liking us on Facebook.
Love your Mondaine?
Tag us on social @mondaine_watch for your chance to be featured in our next #MyMondaine.
Official Swiss Railways Classic
Official Swiss Railways Clock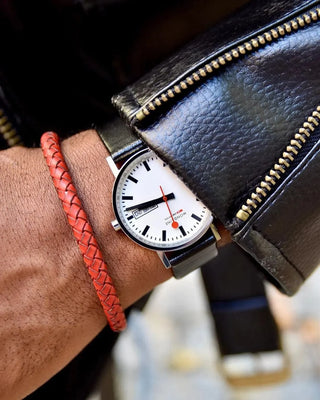 Official Swiss Railways Automatic