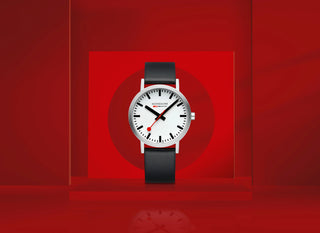 FORM AND FUNCTION
Classic
Our classic collection draws on Swiss-made precision and Bauhaus design principles to create an iconic timepiece that is both eco-friendly and built to last. From the iconic red second hand to the perfect harmony between form and function, every detail of our classic collection is designed to provide a lifetime of reliable performance and timeless elegance.
With high craftsmanship and innovative features, our classic collection is the ultimate pure expression of Swiss-made excellence and design.
Original pure design
The Classic collection is the orginal designed invented in 1986. It features Hilfiker's signature red second hand. The simple case matches the SBB design letting you carry an piece of Swiss heritage on your wrist.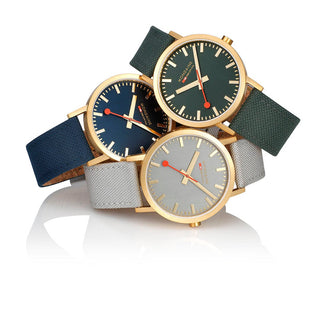 SIZES FOR EVERY WRIST, COLORS FOR EVERY MOOD
Available in a variety of captivating colors. From the deep, rich tones of midnight blue to the understated allure of brushed silver, there is a color to suit everyone's' taste. Let the hues of the Classic Collection express your individual style and elevate any ensemble to new heights of sophistication.

We understand that case sizes matter, and that's why the Classic collection offers a range of options to cater to every wrist. From the sleek and compact dimensions of 30mm and 36mm, perfect for those who appreciate understated elegance, to the bold and confident presence of 42mm, there is a size that effortlessly complements your personal preference.

With these timepieces on your wrist, you can trust in Mondiane's unwavering dedication to quality and craftsmanship.
Indulge in the beauty of simplicity of pure design with Mondiane's Classic collection.
Glass Crystal options
Our Classic watches boast two remarkable crystal options that redefine resilience.

First, our synthetic sapphire glass crystal, renowned for its exceptional scratch resistance, ensures your watch remains unblemished through the trials of daily wear.

For extraordinary strength, our hardened mineral crystal undergoes meticulous chemical treatment, elevating its hardness and scratch resistance to unmatched levels.

Experience the enduring beauty of Mondaine's Classic collection, where impeccable craftsmanship meets unyielding crystals. The perfect fusion of timeless elegance and invincible strength.
Strap Materials
Majority of our timepieces come with quick-release straps, designed for effortless customization and personalization. Now, you have the freedom to easily swap and interchange straps, allowing you to create a look that perfectly aligns with your iconic style and mood.
Redefine time in a conscious and purposeful way with Mondaine.
Choose from these options:
Vegan Leather
Crafted in collaboration with Vegea™, our vegan grape leather straps offer a plant-based, animal-friendly alternative. They are free from solvents and harmful substances, showcasing the beauty of upcycling discarded grape skins, stalks, and seeds.
Textile/Cork
Embrace sustainability with our innovative textile straps made from recycled PET bottles. For enhanced durability and comfort, these straps feature a luxurious cork lining.
Stainless Steel
Our Milanese Mesh and Steel bracelets are crafted from 316L stainless steel, a material renowned for its durability, resistance to rust and corrosion.
Up to 80% of the steel used in these bracelets is recycled, contributing to a circular economy.