Iconic design with modern conscience
Essence Collection
Our esence collection offers a sustainable and eco-conscious take on modern timepieces. By using renewable and eco-friendly sources, such as castor oil, natural rubber, and recycled PET bottles, the essence series represents Mondaine's commitment to reducing its carbon footprint and contributing positively to world change.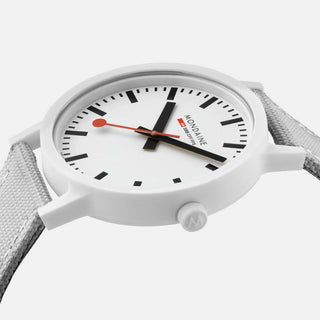 Sustainable case
Experience artistry and sustainability in the Mondaine Essence Collection's case.
With 41% castor oil extracted from carefully pressed seeds, 27% fossil plastic, and 30% glass powder, this exquisite bio-plastic masterpiece reflects our commitment to both elegance and sutainable responsibility. Infused with 2% color, each timepiece is a personal expression of style.
Discover the harmonious fusion of nature's gifts and human ingenuity in this testament to sustainable and affordable everyday luxury.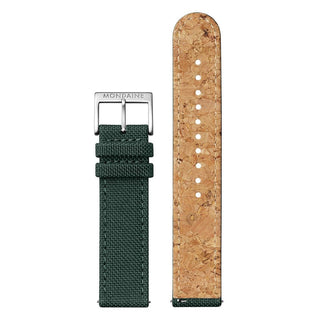 Sustainable Straps for green future
Elevate your style effortlessly with our timepieces featuring quick-release straps. Customize and personalize your look with ease, reflecting your iconic style and mood. Embrace sustainability with our textile/Cork straps, crafted from recycled PET bottles and luxuriously lined with cork for enhanced durability and comfort.
Make a statement that resonates with your discerning taste, as your timepiece becomes an extension of your remarkable self.
Sizes to Suit Every Taste
Experience the perfect fit with the essence collection in 32 mm and 41 mm watch sizes.
Choose from a range of captivating colors, expressing your unique style. Elevate your wrist with effortless sophistication.