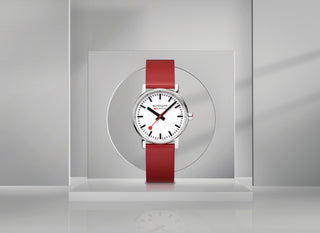 SWISS TIMEPIECES LARGER THAN EVER
evo2
The evo2 collection is where form meets function in perfect harmony. With its organic shape and ergonomic fit, evo2 offers unrivaled comfort on your wrist. Swiss made with impeccable craftsmanship, it pays homage to the iconic SBB design and Bauhaus principles. Eco-friendly and adorned with the iconic red second hand, evo2 embodies timeless elegance in every detail.
Experience the evolution of minimalist style with the evo2 collection.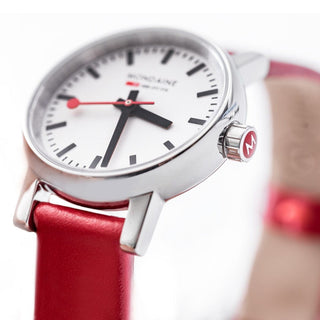 Organic Shape Case
Experience the embodiment of Swiss craftsmanship with the evo2 collection. Meticulously brushed or polished, the stainless steel watch provides the perfect ergonomic fit experience.
Its organic shaped case has curved edges allowing it to sit on your wrist comfortably. This masterpiece blends tradition and innovation flawlessly. With a minimalist dial featuring elegant hands, the evo2 is a symbol of understated sophistication.
Embrace precision and sophistication with the evo2 Collection - a testament to timeless excellence.
Watch movements and caseback
You have the option of an automatic or ronda 503 movements (calibers).
Automatic movement - This exquisite masterpiece brings the artistry of traditional watchmaking to life. It has a see through caseback that allows you to see the dance of gears and springs with an automatic movement - the pursuit of accuracy and elegance.
Ronda 503 - Swiss-engineered marvel of the art of timekeeping. This remarkable movement sets new standards of excellence. The evo2 collection embodies this philosophy with unparalleled grace.
Sapphire glass crystal
Expertly fashioned from synthetic sapphire, this prestigious crystal sets itself apart with remarkable scratch resistance, embodying unparalleled durability and lasting beauty.
Mondaine's unwavering pursuit of excellence ensures that every evo2 timepiece dial is graced with sapphire crystal exudes an enchanting charm that remains unscathed over time.
Ideal for daily wear, this extraordinary crystal underscores Mondaine's unwavering commitment to sophistication and sustainability.
Different Sizes, Delightful Colors
The evo2 collection offers an array of case sizes to adorn your wrist with grace and sophistication.
From the majestic allure of a larger case in 43 mm, commanding attention with its presence, to the understated elegance of a smaller counterpart 26 mm.
With the evo2 collection, your style takes center stage, while the harmonious marriage of size and design crowns your wrist with a touch of timeless allure.