For a greener world
Vegan Classic Collection
In 2022, we partnered with VEGEA™– an Italian company specialized in turning waste from winemaking into a vegetal leather alternative.
This is our answer for a greener world.
The Classic with Vegan Leather Straps
With an unwavering commitment to our planet, we have redefined everyday luxury with the Vegan Classic Collection. We have merged sustainability seamlessly with timeless style.
You get all the same pure design of the original Classic collection with vegan leather straps.
Quick Release straps with Vegan Leather
We partnered with VegeaTM, a distinguished Italian enterprise specializing in the transformation of winemaking byproducts into a captivating vegetal leather alternative.
With this collection, we not only embrace compassion towards animals, but we have also removed solvents, heavy metals, and other detrimental substances.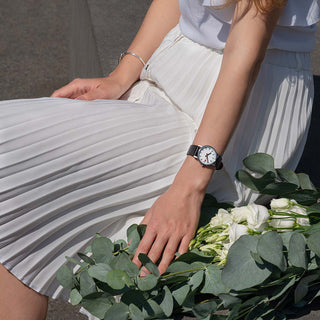 Components of vegan straps
50% vegan grape leather
25% recycled polyester
25% Apple materials