#MyMondaine
Chloé Vadot
My name is Chloé; I'm based in Brooklyn and work as the Director of Creative Services in an industrial design studio located in Soho (atlason.com). I've always enjoyed working alongside creatives, and during the pandemic, launched a small online platform to celebrate the work of emerging creators(accessibleobjects.com) with my talented friend Sophia, who built the entire website. Moments that characterize my day-to-day are my bike commutes over the Williamsburg bridge, and dinner with friends almost every night.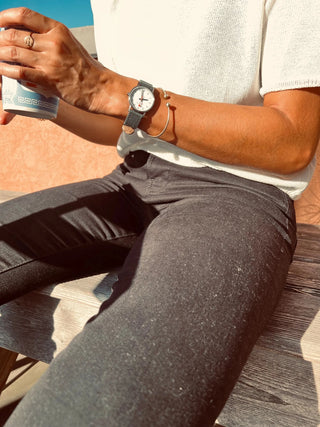 We feel that time is the most precious resource that we have — what time do you cherish most?
On hot summer days in Brooklyn, we often invite friends to our roof for lunch. The 1pm rendez-vous timeis sometimes a bit ambitious, so guests trickle in and everyone helps a bit with putting together seasonalsalads, cutting fresh bread, setting out mezzes and cheese, marinating meats/fish/veggies for thebarbecue. By 3pm we are finally eating, sometimes chasing the shade slightly as the sun burns high inthe sky. The afternoon drags on – wine drifting into coffee drifting into afternoon desserts – when all ofthe sudden, it's nearly 7pm and time for everyone to get ready for respective evening plans.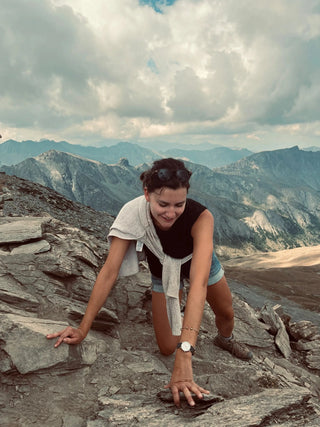 What are some standout thoughts and values on sustainability that have really stuck with you?
We can have a small yet meaningful impact when we consume more responsibly, shop more consciously, and live our day to day a little more slowly. To me, this is as much about reducing your carbon footprint as it is about living more happily. I feel joy when I manage to uncover zero-waste tricks, but frustration when I have to throw out a bunch of wasted material.
"The idea of sobriety and slowing our lifestyles down is something that resonates with me, especially while living in one of the fastest cities in the world."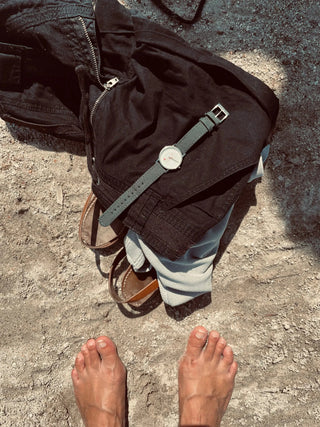 Where in your life do you find the most creative inspiration?
I feel most inspired when I meet creatives of my generation who are motivated to grow their independent practice, experiment with new forms of work, and continuously learn and collaborate with new partners. AccessibleObjects.com was founded on the goals of giving a broader voice to those precise thinkers and creators by providing a means of bringing their experimental, progressive objects and ideas into theeveryday lives of curious minds around the world.
What makes you proud to wear a Mondaine watch?
Mondaine watches are design icons that have successfully reinvented themselves in fresh, sustainable ways through materials that hold integrity to the style and essence of the brand. My Classic Mondaine watch is a discrete and elegant accessory for my everyday – whether it is a day at work or a more active outing while on vacation in France. The cork lining on the strap makes for a super comfortable wear, while the earthy tones of the textile and matte, tone-on-tone case look give the eye rest when checking on the time. Overall it feels like a timeless design object, natural and easy to wear every season of the year.