#MyMondaine
Diego Benzoni
My name is Diego Benzoni and I am an actor. I would say my days and weeks are all different from each other and tend to change at the last minute due to the timing in my industry, which can be very fast-paced. As an actor, you spend a lot of your time auditioning for various projects, which could be either in person or via self-tape, which is basically an audition you film at home. I tend to do mine in the morning, to have better light and more time to eventually repeat or reshoot them in the afternoon or in the following days. I take part in these auditions as a way to keep myself trained, active, and motivated as an actor and they also help to keep you up to date with current projects that are being developed. In the evening I either see friends for dinner, go to see a film or a play, or at home cook something nice and catch up on my favorite tv series.
What makes you proud to wear a Mondaine watch?
I come from a small village in Ticino — the Italian-speaking side of Switzerland — and studied and lived in the UK for six years, and now reside in Milan. Due to the nature of my work I am often traveling, and wearing a Mondaine watch makes me feel like I am always carrying a piece of home wherever I go. It is an iconic piece of Swiss design that combines practicality, simplicity, and functionality. It is also a great conversation starter, which gives you the chance to talk about our legendary railway system, watchmaking craft, and design tradition.
"I think that quality time spent with friends is truly the most valuable and what I cherish the most. When you lose yourself in the moment and forget to check your watch or your phone, which is how you know you are having a great time."
What time do you cherish most?
Since I come from a small village and I studied abroad, most of my friends and loved ones live in different cities and parts of the world, which makes it challenging to be able to see each other. I really appreciate having a very flexible schedule which allows me to take time to go and visit them and to spend proper time with them. I also find that watching a great piece of theatre, film, or TV as a collective experience can be a great way of living in the present and forgetting about the passing of time.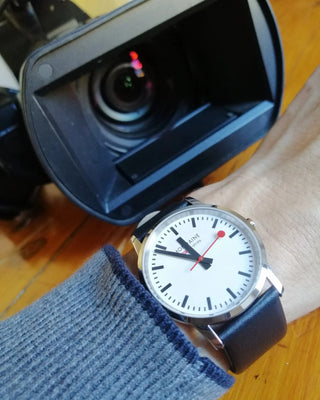 Who in your life inspires you?
The people who inspire me the most are my grandparents, thinking about how different the world was when they were growing up and how tough of a time they had makes me grateful for the life I am able to lead and the opportunities and comfort that our generation is able to enjoy. My grandma Francesca just turned 94 this year, and she is the most brilliant person I can think of. She has a fantastic sense of humor and is a great storyteller, there is nothing I would rather do than spend time with her listening to her anecdotes and stories from her past. She is a great source of inspiration for me as she had to constantly fight her way through life and has always gone against the grain and marched to the beat of her own drum.