#MyMondaine
Elaine & Gatsby
Elaine Le is the voice and creator of the NYC-based dog-friendly life and style blog Sibe Life. Aside from her blog, she is also the founder of Pawsitive Collections, a pet-inspired candle company.
We like to think that time is the most precious resource that we have. What time do you cherish most?
Doing what I love and spending time with my family is important to me. After working 15 years in corporate healthcare, I recently resigned. I realized that I wasted my time staying in an unfulfilling career. Sharing tips and resources about my pet-friendly life and style in NYC is what I love to do. So, I'm focused on doing more of that now with my blog. I also have more time to go on adventures with my husband and husky to create even more unforgettable memories!
As a small business owner, how do you manage your time?
Juggling between my blog and candle business is a challenge! In the mornings, I meditate for 10 minutes to center myself and set my intentions for the day. Goals setting and blocking out time to complete tasks daily is a must. If I don't do this, I'm all over the place, and nothing gets done.
As we say at Mondaine, sustainability is in our DNA. We strive every day to improve our impact on the planet. What sustainability practices have you incorporated into your everyday live?
Sustainability is the future. I choose to be more sustainable in everyday life by buying things with intention, always re-purpose, re-using, and supporting brands who care by implementing solutions to our environmental crisis.
As for Pawsitive Collections, we work with glass and tin vessels so that they can be re-used and re-purposed once cleaned! We encourage our customers to use them for drinks, makeup brush holders, or even a treat holder for their pup! We also never use plastics when shipping our products and will only use recyclable and biodegradable materials.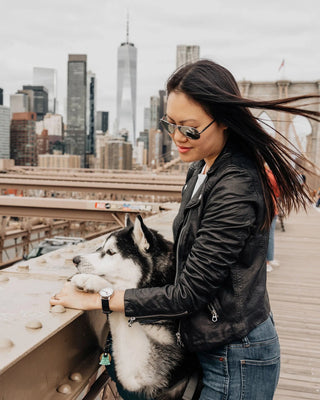 To our product development team, luxury craftsmanship and innovation are the foremost influences on our watch designs. Where in your life do you find the most creative inspiration?
My design inspirations at Pawsitive Collections come from my four rescue cats, Siberian Husky, and minimalist style. Every candle design is inspired by my time spent with them. Our pets live such short lives, and I want to inspire others to create more moments and memories with their furry best friends.
What do you like most about your Mondaine watch?
I love the minimalist design, comfort, and durability of the scratch-resistant sapphire crystal on my watch. It compliments my daily wardrobe, and it's durable enough for me to wear when I go scrambling on mountain hikes with my husky.