#MyMondaine
Elyssa Eaton
Elyssa, a self-proclaimed eco-warrior, is a plant-based health and wellness enthusiast and writer/editor at vitacost.com. She is inspired by a zero-waste lifestyle and enjoys sharing smoothie bowls and rainbow salads on her Instagram.
As we say at Mondaine, sustainability is in our DNA. We strive every day to improve our impact on the planet. What sustainability practices have you incorporated into your everyday life?
In my life, sustainability means ditching single-use items. I also prefer to shop in bulk to avoid product packaging as much as possible. I vote with my dollar by supporting brands/companies that align with my values. I also know that there's really no such thing as "zero-waste," but itisimportant for individuals to take responsibility to be as environmentally sustainable as they can be. Oh, and growing my own food! This has been quite the journey, and I still have a long way to go, but with hundreds of fruit and veggie plants in my yard, I think I'm well on my way!
What are some of your favorite ways to use the time that belongs to you?
I thoroughly enjoy moving and grooving. Invite me to a group workout class – and I'm there! I enjoy practicing yoga and cycling, but really open to anything the gets my blood pumpin' (big fan of standup paddle boarding)! I live in The Sunshine State, so I'm often outside gardening (I've got quite the food forest going) or in the pool. If I'm not around the house, I'm probably at a farmer's market, local artisan flea or walking down some hip downtown street catching the views. Two things I'd like to dedicate more time to this year: taking baths and lounging at the beach.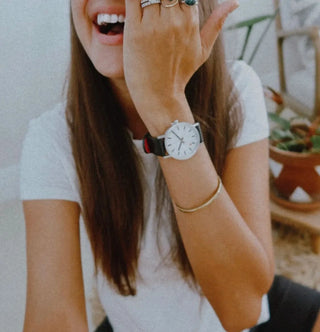 Time has a wonderful way of showing us what is important. How do you make the most out of your time?
By making the most of it. Time management comes with practice. It's important to me to acknowledge the time that I have by staying present. Living in the moment has brought so much meaning to my life. Another important thing for me is to know when toslow down. It's OK to not be productive all the time!
What makes your proud to wear your Mondaine watch?
I try (keyword, try) to stay off my phone as much as possible. I love being able to look at my wrist to know what time it is rather than reaching into my bag to look at my phone screen. Also, I'm a huge advocate for kinder living. This means supporting brands that align with my beliefs. Mondaine's grape leather watch straps are revolutionary. They're plant-based and made with grape scraps (literal byproduct) from a wine vineyard. Not to mention, many of Mondaine's watches are made with renewable resources. Their watches are produced by solar power, they don't use sweatshops and they've been carbon neutral since 2020! I also enjoy telling people all of the above when they compliment me on my watch!