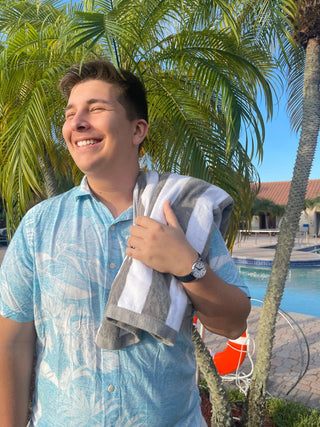 #MyMondaine
Ian Chirinos
Recently, Ian wore his Mondaine on a trip to the Dominican Republic where he really put us to the test. From a wedding, to the pool, to a day of sports on the beach, Ian raves about the dependability and water resistance of his new favorite luxury watch.
What made you choose to wear Mondaine?
I've never really worn accessories, but this watch makes me feel.. bougie! It gives me confidence, its incredibly luxurious, and I haven't gone 24 hours without it since the day it came in.
I enjoy its sleek design and I am obsessed with the automatic window. My favorite feature is probably its water-resistance. I don't need to take it off in the pool or at the beach, which is super convenient.
"My Mondaine watch is a nice change of pace from the abundance of screens in my everyday life. I can put away other distractions and just have my watch on me, and I love that."
As we say at Mondaine, sustainability is in our DNA.What sustainability fact surprised you the most?
I recently learned that rechargeable batteries have 28 times less of an impact on global warming, 30 times less impact on air pollution, 9 times less impact on air acidification, and 12 times less impact on water pollution! Once I learned this I immediately made the switch to rechargeable batteries. It's also a huge money saver, and great investment.
Tell us about the last time you were enjoying yourself so much, you lost track of time.
On my most recent vacation, I went to the Dominican Republic to celebrate a wedding. The following day, there was an organized "Family Olympic Day" on the beach. Once the teams were made, we had 6 events to participate in. My team won 4 and placed 2nd in the other two; total domination. I checked my Mondaine after it was all over and nearly 4 hours had passed! Time flew by, but it was an amazing day and I can't wait for the next Family Olympics.