#MyMondaine
Sepi Roozdar
My name is Sepi, and for the past 10 years my career has been working with the most brilliant-minded students as a high school physics and chemistry teacher. I've also played the role of poet, author, and lifelong lover of nature.
I am in the midst of pivoting toward a different lifestyle at the moment—moving from New York City to an off-grid homestead in the Scottish Highlands (@wildbearcroft), making a shift to become a homesteader, gardener, and herbalist, co-creating with the flowers for a line of clean beauty products called Wild Bare Wellness.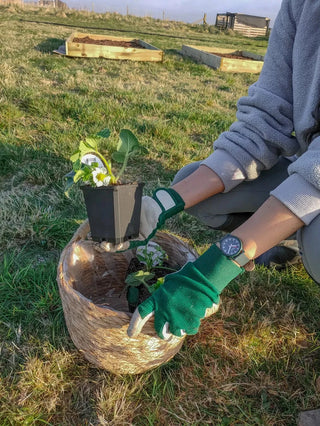 We like to think that time is the most precious resource that we have. What time do you cherish most?
It's true — time is our most precious resource. I value time spent with my loving partner, my family and friends.
I also use my time to learn about our new lifestyle, specifically gardening. After months of planning and organizing, I sowed the first seeds of our garden this spring. Herbs, like aromatic rosemary, sweet and holy basil, and mint; fruits in our strawberry patch; thousands of vegetable seeds like carrots, radishes, parsnips, zucchini, and brussel sprouts. I've also planted some that I will be distilling for oil to be used in beauty products like lavender, sea buckthorn, rose, vetiver, yarrow and chamomile.
Through the skills that I develop and through the miracle of a growing garden, it brings me so much joy to witness how we can nourish ourselves, our growing families and also our community. I look forward to sharing my knowledge about gardening, yoga and wellness.
"To me, it's about creating a slow, simple, resilient way of living. For my partner and I, living an off-grid lifestyle among the nature and wildlife that we love helps us find clarity within ourselves."
We strive every day to improve our impact on the planet. How has your focus on sustainability impacted your everyday decision-making?
Homesteading is about developing skills for living self-sufficiently which, in my eyes, is the heart of sustainability — all we need for survival and well-being is sourced from our home. We create in a way that regenerates life on the land, re-using and upcycling materials every opportunity we can.
This also means making conscious choices of the things we wear, making sure that there is thought and effort in a company's philosophy that resonate with our way of living. My Mondaine watch is from the Essence collection, made of recycled PET bottles, cork lining and castor bean oil — this watch is inspired by mother nature. The "quick change" interchangeable strap gives the gift of having two different-looking watches in one; stylish for a conscious New Yorker and resourceful for a slow-living, homesteading, nature-loving Outlander.